Where to Donate Durable Medical Equipment
If you have a used electric or power wheelchair and no longer have a need for it, consider donating the power chair if it is still in good working condition.
Many organisations are looking to fill their inventory with donated resources to provide low or no-cost medical equipment to families who need it most.
Below are a few ideas of companies you can contact and may choose to donate to – from the national to the state and county level. And while we list some Arizona-specific resources for this article, each state across the US has similar centers that you can find by searching online!
How to Search for DME Donation Centers in your Area
By searching "DME donation centers near me", or, more specifically, "centers accepting power chair donations", you will be able to find a variety of organizations specializing in wheelchair donation.
Some organizations even donate to communities around the world!
Nationwide Medical Equipment Donation Centers
Places like The American Red Cross, Goodwill, and the Salvation Army are always available to take certain medical equipment like wheelchairs and walkers.
For people that have a hard time affording new or slightly used wheelchairs, these organizations are a great place to get them at little to no cost.
The American Red Cross may even pick up your wheelchair donation for free.
Non Profits
There are also plenty of non-profit organizations that will gladly accept your power chair and put it to good use. Simply search for the donation centers in your area.
Where to Donate DME in Arizona
AZPVA accepts equipment that is new or gently used and less than five years old. Equipment must be in good working condition or easily repaired.
Exceptions may be made with regard to age or condition of the equipment if it is in high demand, of high value, or unusual to access.
We Care Tucson AZ maintains a loaner bank of medical equipment. The donated medical equipment is provided free of charge, however, there is a small processing fee upon pickup.
This service is of immeasurable assistance to those people who have the misfortune of falling through to cracks of our medical system.
They are always happy to accept donations of medical equipment and supplies which you may no longer need.
PSMA is always accepting medical supplies and equipment from individuals and organizations. They appreciate unexpired items in good condition and operational equipment that is new or gently used.
They are not able to accept prescription medication, IV fluids, dialysis equipment or supplies, wound vac supplies, nutritional supplements or items requiring cool storage, CPAP equipment, or used respiratory masks or tubing.
Interfaith Community Services accepts a variety of new and clean, gently-used items to distribute free of charge to low-income senior and disabled adult recipients across Southern Arizona who could otherwise not afford them.
They receive and distribute the supplies by appointment through their Tucson office located at 2820 W Ina Rd.
Accepted equipment and donated items include:
Standard wheelchairs or transfer chairs
4 legged walkers and walkers with seats
Canes
Crutches
Shower chairs and raised toilet seats
Transfer benches
Bedside commodes
Unopened baby wipes (within 6 months of expiration)
Unused adult diapers
Body wipes
AZTAP is not a donation center, but rather a website designed to provide a comprehensive and searchable listing of all participating Arizona programs providing Assistive Technology (AT) & Durable Medical Equipment (DME) Reuse activities for Arizona residents who need a piece of equipment or those who have used/pre-owned items that they want to sell, donate or exchange.
You can use the AZTAP portal to search for everything from hospital beds to power chairs in Pima County and beyond.
Give the Gift of Mobility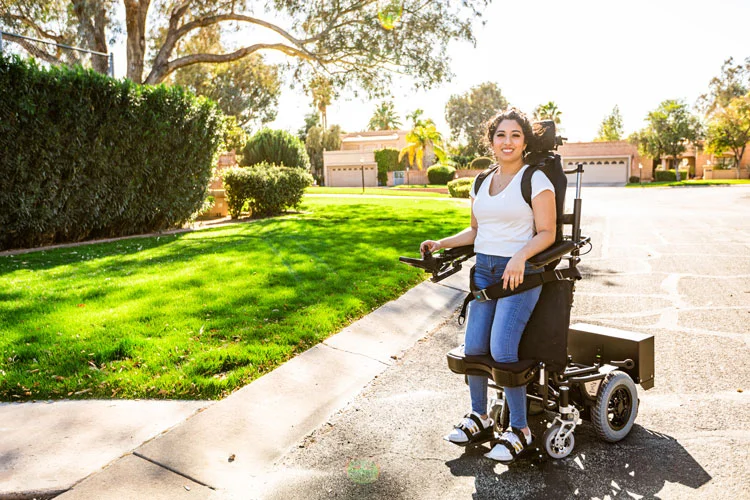 If you've been the lucky user of a Redman Power Chair that is still in good condition that you no longer need, please consider passing it on to a worthwhile organization.
By donating your used, but well-loved power chair, you're giving the gift of revolutionized mobility to someone in need.