Are Standing Power Chairs Good for You?
YES!!! Standing power wheelchairs are a great option for wheelchair users looking to improve their health and overall well-being.
When you cannot stand on your own, a standing power wheelchair can be a great option to regain healthy mobility. By adjusting your position between a seated and standing position, you can improve your circulation and avoid pressure sores and UTIs and participate in activities that might require a more upright position.
The Importance of a Standing Position
Without a standing wheelchair, most wheelchair users spend the majority of the day in a sitting position, interrupted only by lying down. This lack of positioning variance can have serious health consequences, including back pain, neck pain, and circulation issues.
To mitigate these effects, wheelchair users are looking for chair options that include standing functions. A power-standing chair offers many benefits over traditional seated chairs, which offer little mobility beyond a seated position.
Standing powered wheelchairs with a mechanical standing function allow you to position yourself in an upright posture, improving spine health and overall quality of life. The health benefits of elevating the upper body also include better circulation, which is especially important for wheelchair users suffering from conditions like diabetes or varicose veins.
Ultimately, remaining in one position for long periods, whether sitting, standing, or lying down, can lead to pressure ulcers, loss of bone density, irritation of spinal cord injuries, urinary tract issues, and more.
The human body was meant to move. With a standing power chair, wheelchair users can achieve physical, psychological, clinical, and psychosocial benefits.
According to RESNA, the Rehabilitation Engineering and Assistive Technology Society of North America:
"Wheelchair standing devices are medically beneficial for wheelchair users by improving functional reach and access to enable participation in ADLs, improving mobility and lower limb function in those with some preservation of lower limb strength, improving range of motion and reducing the risk of contractures, promotion of vital organ capacity including pulmonary, bowel and bladder function, promoting bone health, improving circulation, reducing abnormal muscle tone and spasticity, reducing the occurrence of pressure ulcers and skeletal deformities, and providing numerous psychosocial and quality of life benefits."
Read the full statement at RESNA Position On The Application Of Wheelchair Standing Devices.
For further information on the health benefits of a standing chair, we invite you to refer to this article.
Standing Wheelchairs vs a Standing Power Chair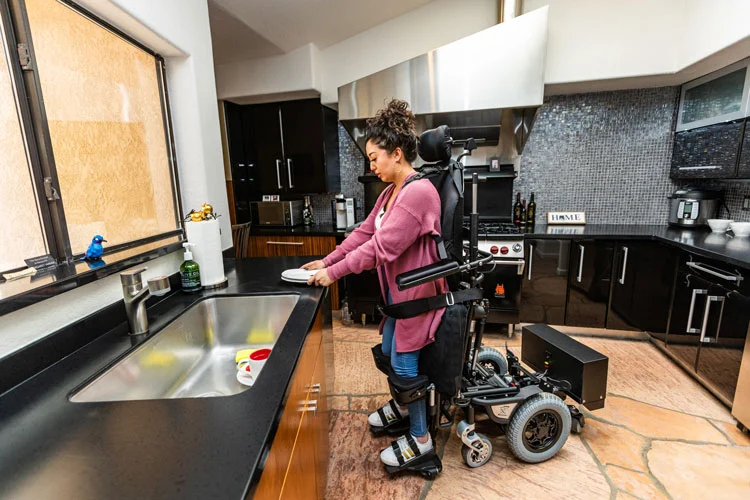 While a standing wheelchair and a standing power chair can offer the physical benefits of pressure relief and improved bone health, there are some distinct differences between the two.
Most apparently, a standing wheelchair or standing frame is completely manual compared to a power chair. In contrast, a standing power chair has multiple power seat functions that can be adjusted with a button or joystick touch.
The manipulation of a manual chair may require an extra set of hands or significant upper body strength of the user to be adjusted.
A purely standing system also misses out on all possible benefits with a chair that can be easily adjusted between sitting, standing, and more, such as tilted, inverted, and stretching positions.
The Best Standing Power Wheelchair
For greater mobility for you or a family member, consider moving forward with a Redman Power chair!
The Redman Chief 107-ZRx moves intrinsically to mimic your body and offers unique positions – Yoga, Stand & Stretch, Tilt in Space – that no other chair offers. With a long-range battery, intuitive brake system, and reliable back cushions that are tailor-made, the Redman Power Chair is built with comfort and function in mind.
The only Mid-Wheel Standing Chair with Positioning
The Redman Power Chair is the only mid-wheel standing chair that elevates, tilts, stands, and reclines using an exclusive counterbalancing system. Travel up to 6.5 miles per hour for 15-20 miles with a full charge.
With over 35 years of technological advancements – including multiple proprietary and patented designs – our custom-tailored wheelchair allows uncompromised mobility and accessibility to interact more fully with the world around you.
We invite you to continue exploring our website to learn more.